File Prep
The following information will help you with understanding and preparing your artwork files for screen printing, embroidery, or promotional products. If you have questions, please call us.
Accepted artwork files fall into two categories: Vector and Raster.
Vector Files vs. Raster Files
Vector Files include: .pdf, .ai, .eps.
We prefer Vector Artwork (.ai, .eps). Vector images can be scaled up or down without losing detail or affecting the print quality. If someone else created the artwork for you, it is always worth asking for the vector artwork. Please note, taking raster art (.psd, .jpeg, etc) and placing it inside a vector file format does not make it a vector. This happens frequently and is a time-consuming fix for not only us, but it could delay your order or create costly artwork fees for you.
If you are creating your file in Adobe Illustrator or another Vector-based software, just size your image to the size you want it to print. Please see below for font/text.
Raster Files include: .psd, .jpeg, .tiff, .png, .gif, .bmp.
If you don't have access to the Vector Artwork (above), we suggest that you prepare your file at 300 dpi to the size you want the shirts printed. If your file is not 300 dpi to size, you cannot just increase the resolution to 300 dpi (that's called upsampling). This will result in a blurry, pixelated image that is unusable for our printing purposes.
Whichever of the raster formats you provide, the artwork should be to print size and 300 dpi. If they are not provided this way, we can't guarantee that the print quality will match your original image.
Artwork Not Accepted
Artwork file types that are not appropriate for screen printing: Microsoft Word, PowerPoint or Publisher file types. Supplying these formats is likely to increase your turnaround time and will often require you to either re-submit the artwork or incur fees to recreate the artwork.
Accepted File Types
We accept the following File Types:
Illustrator/Vector (AI or EPS) – Most Preferred.
Photoshop (PSD) – Acceptable at 300 dpi, set to print size.
PDF – Accepted if vector format and not a raster image in a PDF.
JPEG/PNG/GIF/TIFF – Supply these as a last resort.
Size Your Design
Your design should be sized to the size you want it printed. This will be easy in Illustrator.
However, in Photoshop, be careful. If you want your design printed at 9" wide, please make sure the actual design within the file is 9" wide, and not just the background size of the document.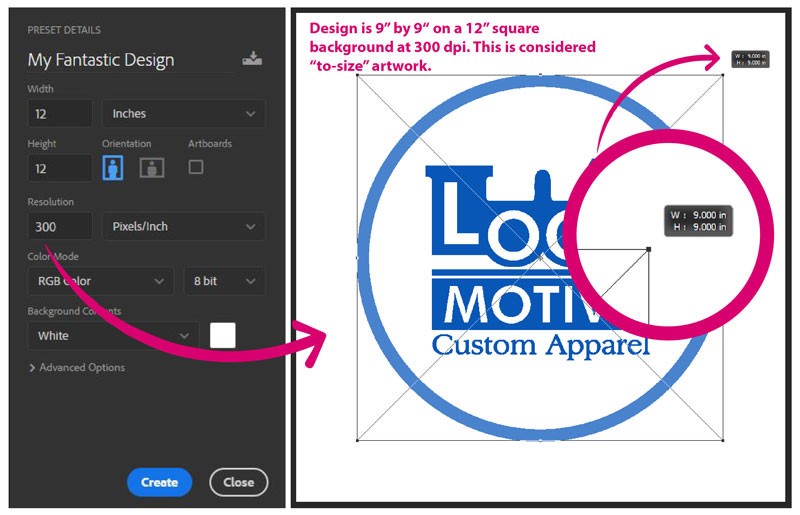 Fonts – we love them and hate them.
When you're using non-standard fonts, it is imperative that you expand your text, also called outlining. If you are creating your file in Adobe Illustrator, you will need to choose "Create Outlines" on all your text. This allows us to open the file without requiring the font or to purchase the font.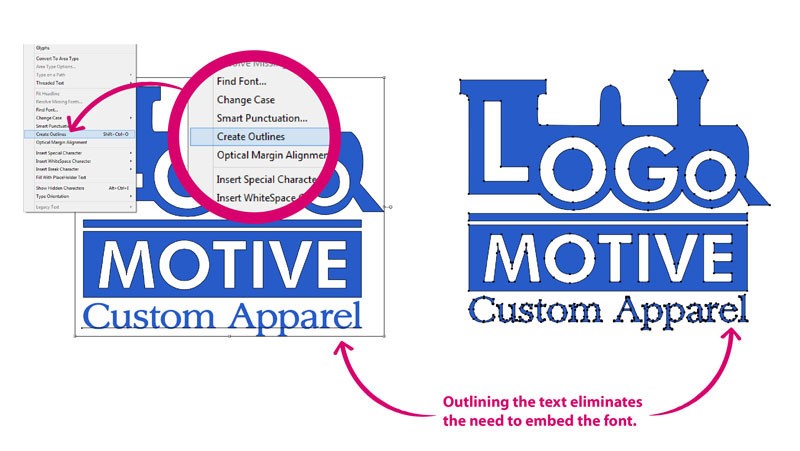 When working in raster programs, such as Photoshop, each font layer should be rasterized to avoid missing fonts.
File Separation
We advise against you trying to separate it for us in preparation. We have been doing this for years, and have perfected our way of separating files for print. Trying to do that for us tends to add complications. Saving the artwork as a complete piece (layers are okay and sometimes useful) at the size you require it printed.
Inks and Pantone
We do not charge for custom ink colors; however, we do ask that you specify the Pantone from a Solid Coated Pantone Guidebook. Solid Coated Pantone Guides best match our printing colors. Do not use a Solid Uncoated Pantone Guide, these colors will never match our inks. It's critical to only choose the Pantone from a physical copy of the book, in order to get an accurate match. We have one in our office for use with placing orders.
Preparing Artwork for Embroidery
Please supply a clean image file (most types are fine – jpeg, png, gif, etc) of your artwork. The resolution doesn't need to be that high (300 dpi, to size is ideal, higher is better and Vector is always preferred), as long as the colors are clear and not distorted by excessive compression. Size will depend on your garment and the location.
Other Ways to Provide Your Art
If you cannot send your files to us via email, then it is possible to bring it in directly to us via USB stick (please make sure you know the file name and exactly where it is on the USB).
Sometimes you may not have computer generated artwork and that's fine. However, we'll need the original if you have custom sketches or ink drawings, as we'll need to photograph or scan them at a high resolution to make them print-ready. Artwork charges may be necessary.